There has probably been a Soul Music deficit on the blog recently. It is my first musical love and while I continue to get distracted by the shiny new things that I encounter I find myself returning to it over and over again.
What better way to redress this than with Curtis Mayfield and The Impressions. Curtis is a massive hero of mine and I started this blogging journey all those months ago with the incomparable Move On Up, which remains my favourite track of all time.
The reason I have been thinking of this song in particular, which is taken from the 1969 album The Young Mods' Forgotten Story, is that it was sampled by Oddisee in his track The Carter Barron which was one of my favourites of 2012. I only managed to place this a couple of weeks ago after randomly stumbling across it on YouTube.
Curtis Mayfield and The Impressions – The Young Mods' Forgotten Story: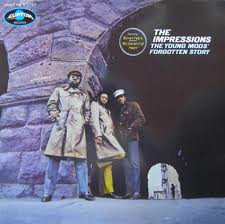 /RjK