Fleetwood Mac have been on my mind for a couple of reasons recently. Firstly, as I was getting a haircut the other day the barber mentioned that he had tickets to see them in Las Vegas on their 2013 world tour.  I was pretty jealous and might just try and see if I can score some tickets when they come to Ireland. The price will probably make my eyes water though.
Secondly, a colleague and I were talking about the death of the album in work this week. I was saying that albums are pretty much meaningless to me at this stage and how it makes me rather sad.
This got me to thinking about Rumours (which along with probably Astral Weeks, Highway 61 Revisited, Grace and only very few others) and how it is one of the few albums I still think of in that way rather than just a collection of songs that sporadically pop onto my MP3 player.
My colleague was suggesting although Astral Weeks was pretty good (!!) it wasn't a patch on In the Aeroplane Over the Sea by Neutral Milk Hotel. You might say I disagreed with this idea but that is another story.
Rumours: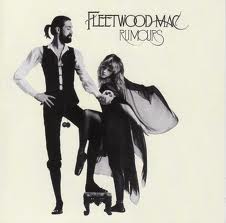 /RjK